Premises and services
At the premises of Saimaa Stadiumi, the Active Life Lab, a wellness laboratory of the Southeast Finland University of Applied Sciences, serves not only as a learning and innovation environment, but also as a provider of wellness services for all residents of the city. Stadiumi also has high-quality premises for teaching, training and meeting purposes, and also for wellness entrepreneurship.​
The premises of Saimaa Stadiumi have a great atmosphere, and are big enough for all kinds of events.
Stadiumi has 1500 seats. In total, the new premises can hold up to over 5000 people. The versatile premises are suitable for sports events, stage performances, conventions, meetings and conferences, or even the recreational day of your business.
Event partners
For the smooth and high-quality organization of events, we have selected a number of reliable partners for you.
XAMK Restaurant Services in Restaurant Stadiumi (https://www.xamkravintolat.fi ) takes care of the catering needs of both bigger and smaller events.
South-Savo Security Services (http://www.estpalvelut.fi) takes care of the cloakroom and doorman services, as well as security planning.
Lumio Events (www.lumio.fi) is a full-service event production company in Mikkeli. Comprehensive expertise and decades of experience in organizing various events, combined with a broad network of collaborators and subcontractors, cover the entire spectrum of events. Behind creative and brave event producers is an efficient production machinery that ensures high-quality and cost-effective event production from small daytime events to large tours and even festivals. Services include: event production (full-service production), stage & mechanics (e.g. suspension, stages, and truss structures), sound technology, lighting technology, video technology (led-screen and projection), fireworks and pyrotechnics, logistics, exhibition structures, support services and technology.
In media production services, Darcmedia (http://www.darcmedia.fi) assists you with quality photography and video and stream production.
We are constantly looking for new event partners. Don't hesitate to contact us!
In Stadiumi, you can also taste the wellness
The relaxed atmosphere of Restaurant Stadiumi, the cheerful service, and the delicious homemade food guarantee a lovely dining experience. Restaurant Stadiumi is open Mon 10-17, Tue-Sat 10-19 and Sun 10-18. Delicious lunch is being served on work days 11-14 and on weekends 12-15. After the lunch hours, it is possible to order for example burger dishes. Read more about Restaurant Stadiumi from this link and you can find the lunch menu from here. "You often hear some people say that healthy and tasty can't fit on the same plate. At Stadiumi, this claim is proved to be an urban legend, because we serve healthy and tasty lunch meals. "
For SuperCorner's customers, children and like-minded, we offer homemade burgers and hotdogs without forgetting local ingredients and production.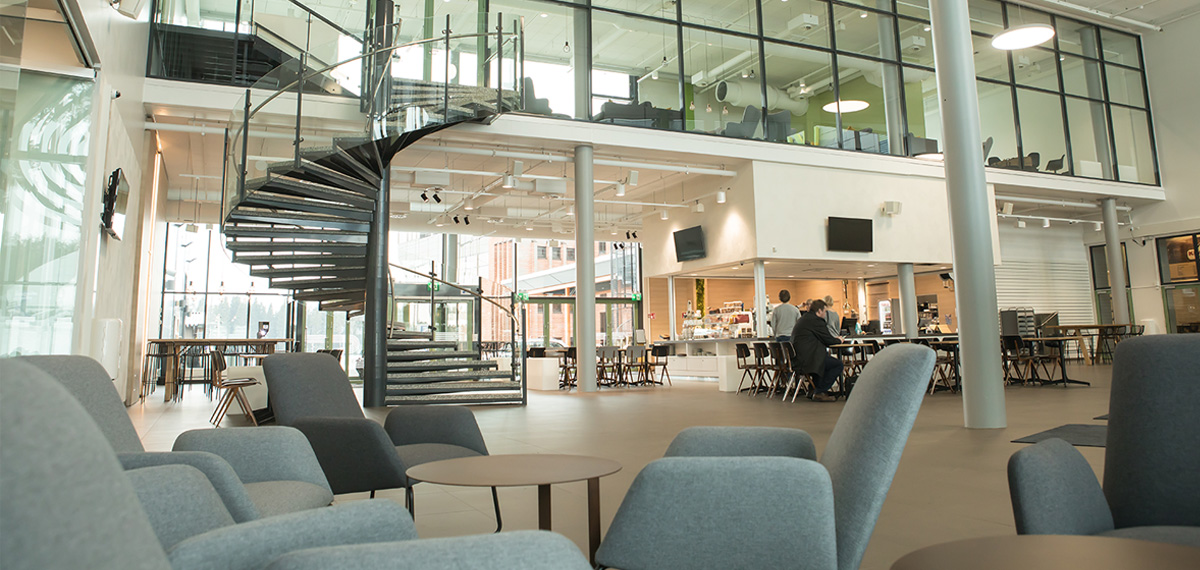 Restaurant Stadiumi operates in two floors. Loft lounge Vire can be booked for cocktail-events, business parties, or other gatherings. Restaurant Stadiumi has alcohol license in the restaurant premises.
Xamk's restaurant services also provide restaurant services at Saimaa Stadiumi's floor area for sports events, concerts, conventions, meetings, exhibitions and business parties for up to 5000 people.
Contac us:
Restaurant Stadiumi
Raviradantie 22b, 50100 Mikkeli
stadiumi@xamk.fi, p. 040 632 9360
Active Life Lab is a research and development unit of Southeast Finland University of Applied Sciences, which operates in the premises that opened in spring 2018 at the Saimaa Stadiumi in Mikkeli. Our goal is to increase the overall well-being of people through research, development and promoting health with our partners. The result is wellness services that fit people's everyday life and different situations in life.
Examples of our wellness services
Active Life Lab offers versatile services for example for companies and work communities. Take a look at our services and ask about our customized service packages, for example for meetings.
Wellness mapping and smart fitness circuit
lasts 2,5 hours, group size 6-12 people
Included analysis:
Exercise motivation analysis (feedback)

Wellness service analysis

Cognitive analysis (testing memory and cognitive inhibition, feedback)

Body measurement analysis (feedback)

Balance analysis (feedback)

​Smart fitness circuit
Timetable:
Orientation and filling questionnaires 30 min

Smart fitness circuit and tests 1,5 h

​Group feedback 30 min
99 € / person
Project
The Intelligent Wellness Laboratory-project, funded by the Regional Council of South Savo, consists of an investment project and a start-up project. Project duration is 1.5.2017-30.4.2019.